If you notice your pet scratching constantly, shaking their head, or not responding to commands, it could be due to an allergic reaction or another health issue. Itchy skin and ear infections can be recurring problems that affect your pet's quality of life. At Hollywood Cat & Dog Hospital in West Hollywood, CA, we can help with common itchy skin and ear infection problems.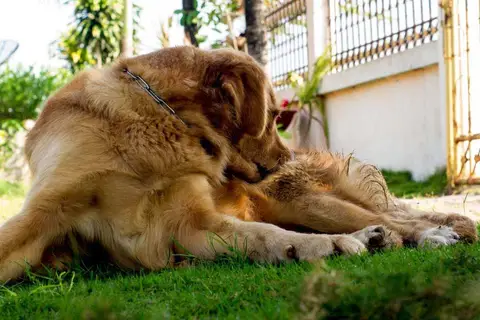 Itchy Skin in Dogs
Your dog's constant scratching can drive you crazy, but it also indicates that something unusual is causing a skin reaction. Itchy skin in dogs can occur because of many different factors, such as contact with toxic plants outdoors, chemicals used in home cleaning, allergies, or underlying health problems. Even grooming products can be irritating. Finding the cause of the itchiness can be a bit of a challenge. Our vet will provide a thorough physical examination of the skin and may require blood tests, allergy tests, or samples of tissue to find the source of the problem.
Itchy Skin in Cats
A skin problem can cause chronic itching in cats, licking at the area, bumps, hair loss, and oozing from the skin. The itching may be caused by fleas or mites, food sensitivities, infectious agents like bacteria or fungus, or simple drying out of the skin from grooming products or environmental conditions. Immune system problems can also cause itchiness in cats. Blood tests or tissue samples examined microscopically may be needed to pin down the cause of the skin issue.
Ear Infections in Dogs and Cats
Both dogs and cats can develop ear infections due to small cuts inside the ear or parasites. However, underlying systemic conditions can sometimes cause irritation or fluid in the ears, setting the stage for infection. A pet ear infection can also occur along with skin irritation and itching due to allergies. Our vet will examine the ears and may take a sample of discharge in the ears that can provide clues to the underlying cause.
Make Hollywood Cat & Dog Hospital Your Veterinarian in West Hollywood
Dr. Girgis and the team at Hollywood Cat & Dog Hospital use their extensive training and experience to help animals in Hollywood live happy and healthy lives. We offer many veterinary services, including vaccinations, surgery, dental care, diagnostics, emergency care, and laser therapy. Our animal clinic also provides daycare and boarding. Contact Hollywood Cat & Dog Hospital today at 323-469-3000 for an appointment or to learn about our treatments for itchy skin and ear infections in pets.